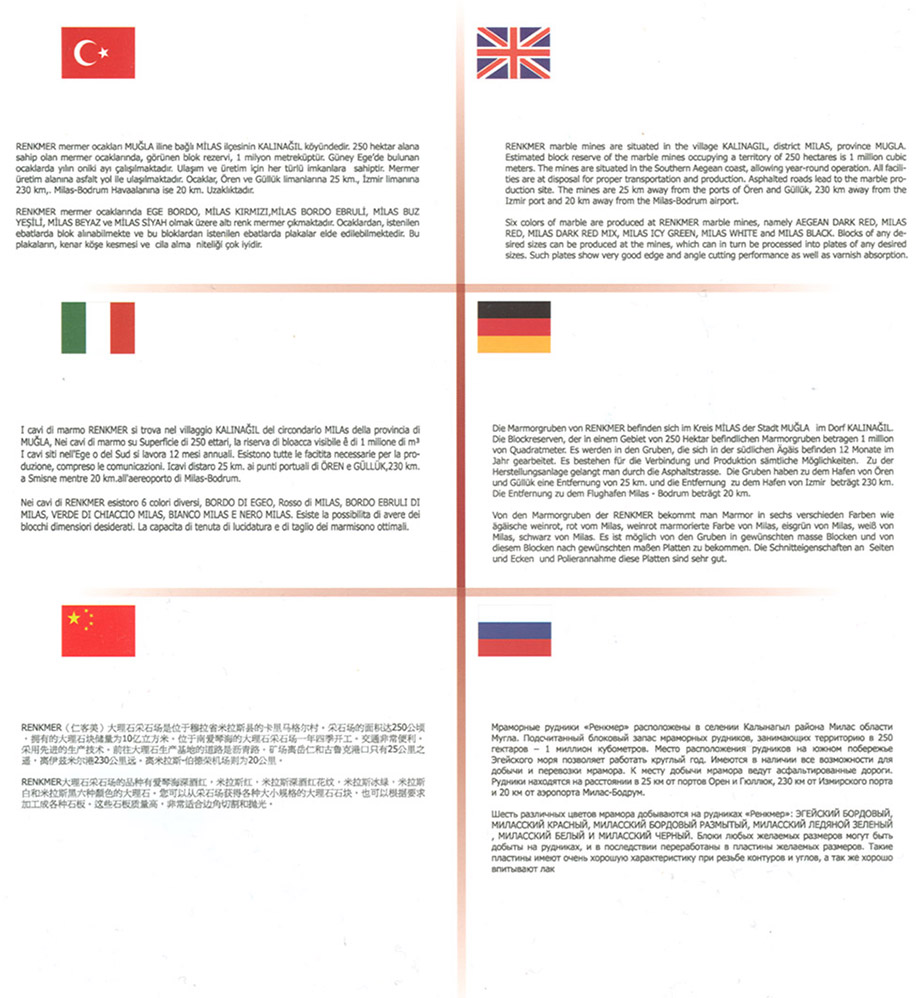 RENKMER marble quarries are in the village of KALINAGIL of the district of MILAS of the province of MUGLA. They consist of four quarries of 150 50 50 12 hektare. Block reserve is 50 %. In the quarries located in South Aegean, marble is produced during twelve months of the year. It has every opportunity for transportation and production. Marble production area is reached by asphalt road. The quarries are 20 km far from Ören and Güllük ports. The port of Güllük has been organized for container and open transport. It is 230 km far from the port of İzmir limanına 230 km, and 20 km from the airport of Milas-Bodrum.
In RENKMER marble quarries, ten colored marble is produced as EGE BORDO SADE, EGE BORDO AÇIK, EGE BORDO KOYU, EGE BORDO DALGALI, EGE BORDO DAMARLI AÇIK, EGE BORDO DAMARLI KOYU, EGE BORDO UZAY, ROSSO LAGUNA, MİLAS SU YEŞİLİ, MİLAS BUZ YEŞİLİ,MİLAS WHITE and MİLAS BLACK. Blocks in required dimensions can be produced in the quarries and plates in required dimensions can be produced from these blocks. Corner and border cutting and polishing quality of these plates are very good.
It is a very important chance for our country and for the world that marbles colored in colour rarely found in the world are produced in RENKMER MARBLE QUARRIES.